Autumn Perennial Color
Catalog 2023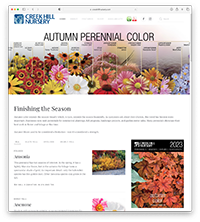 Finishing the Season
Autumn color extends the season visually which, in turn, extends the season financially. As customers ask about their choices, this trend has become more important. Businesses now seek perennials for commercial plantings, fall programs, landscape projects, and garden center sales. Many perennials showcase their best work in flower and foliage at this time.

Autumn bloom used to be considered a limitation—now it's considered a strength.
View the full article at the Creek Hill web site.